Top Beaches of Puerto Vallarta
The reason behind Puerto Vallarta being one of Mexico's most popular travel destinations is its crystal blue water, foothills and the town, which is so amazing to explore. Puerto Vallarta boasts miles of untouched beaches. One of the town's most famous and popular beaches is Los Muertos, located in the Zona Romántica.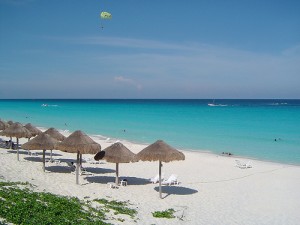 Playa de Oro Beach – The beach is generous, safe, and clean and is located north of the city. The beach is bordered by rocky configurations and is surrounded by a curve of large hotels. The beach keeps you busy with plethora of recreational activities and aquatic sports, such as parasailing, waterskiing, and swimming.
Playa Los Muertos Beach – This is one of the most popular beaches in Puerto Vallarta. The beach is mostly sandy and is long and wide, with typically small waves that are perfect for swimming. In old times, on Sundays and holidays families in Puerto Vallarta would come here to play in the surf and sand. The beach offers fishing opportunities on the south end, where you can catch Lisa, sierra, pargo, and torito. At its backdrop, it has a number of international hotels offering great accommodation.
Las Gemelas Beach – Las Gemelas are a duo of beaches, each approximately 100m in length. The two beaches are distinguished by their clear water, gentle onshore waves, and fine white sand. You can choose from activities like Swimming, snorkeling, kayaking, walking and finally relaxing and sunbathing.
Playa Destiladeres – This is a popular beach with a couple of rural restaurants for food and refreshments. The beach is especially popular among Mexican families and offers nice waves for boogie boarding and to those learning to surf. The beach is also popular among surfers as it has a good wave action.
Quimixto- Nestled between the sandy stretches of Las Animas and Majahuita, Quimixto has calm and clear waters that attract snorkelers and adventure seekers. The beach has two casual restaurants offering the usual seafood eateries. At this beach, do not fail to dive into its waters and explore the underwater world.
Boca de Tomatlán – Boca de Tomatlán is the last beach accessible by land before the highway turns inland. This beach lies between jutting hills, trees and palms, where the sweet waters of a river collide into the sea. If you wish to see rest of the beaches of Puerto Vallarta, you will have to take water taxi from here.
So, what are you waiting for? Book your Flights to Puerto Vallartaand enjoy the amazing, pristine beaches that the beautiful Puerto Vallarta has to offer. Have fun and enjoy the majestic beaches! ~ By- Ashwin Sharma is a travel blogger. He is currently associated with CheapOair.com
About The Author
Related posts