Toronto Tours: Taking It to the Streets
Everything tastes better with bacon.
What's this have to do with walking tours of Toronto, you ask? Well, Toronto is historically known as "Hogtown," and what better way to learn about pork history than to take a Toronto food tour through some of the city's neatest establishments, and visit one of Toronto's best butcher shops to learn everything you ever wanted to know about pork.
This Toronto Urban Adventures walking tour is appropriately titled "When Pigs Fry" and is just one of about 8 public tours offered by Toronto Urban Adventures. Their tours cover topics like beer, graffiti, multiculturalism, history, local businesses, and, of course, bacon.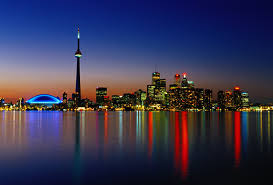 Toronto is a cool city and a great city for walking. Its various ethnic and colorful neighborhoods combined with interesting and unique architecture make the city a great place to explore. Just be prepared to eat at one of the cute little cafes along the way so you don't run out of energy. If you really wanted to, you could spend hours walking the streets of Toronto.
Another tour company, Muddy York Walking Tours, presents the history of Toronto in a fun and exciting fashion.
"Too often, history – especially Canadian history – is presented as being a dry and boring subject. Not for us," according to Muddy York Walking Tours' website.
"We believe that exploring our city's past is a fun and exciting way to spend a few hours, whether you are a visitor to our city, or a life long resident. We offer several tours which try to present the past as an authentic playground for those who want to know how the modern city of Toronto came to be."
Join Muddy York's founder, Richard Fiennes-Clinton, as he leads you on one of a dozen tours around the city. Each tour offers a vision of Toronto's past, translated through various unique and exciting themes. I'd personally like to take the "Haunted Streets of Downtown Toronto," "Ghosts of the University of Toronto," and
"Bloody York : Crime and Punishment," tours – or one of the "Neighborhood Tours."
Frommer's travel guides put together 5 different walking tours encompassing dozens of different stops, which includes everything from the iconic CN Tower to the Art Gallery of Ontario to the Jump Café and Bar. The list is huge, so read more here: http://www.frommers.com/destinations/toronto/0034010008.html#ixzz2TyHqE56I
There are plenty of passionate companies and individuals out there offering walking tours. If you'd like to take a free tour, consider ROMwalks. From May to October, volunteers from the Royal Ontario Museum provide free walking tours exploring architecture, art and history. Most tours take place on Wednesday evenings or Sunday afternoons. Walks do not begin at the ROM – check individual walk listings for meeting locations.
If the idea of walking miles and miles of pedestrian tunnels and shopping underground sounds like a good time, then choose the PATH. PATH is a 28-kilometre (17 mi) mostly underground network beneath the office towers of downtown Toronto. According to Guinness World Records, PATH is the largest underground shopping complex in the world, with 4 million square feet of retail space. Whoa. You may never get out of there.
One reviewer on TripAdvisor said she's never seen such an elaborate food court in her life. The variety and quality is way better than anything she's experienced in the U.S.
Lastly, Toronto CityPASS is not a tour, but if you're visiting the city it might be a good option for you and your family. It's a ticket booklet with actual admission tickets to some of Toronto's top attractions: CN Tower, Toronto Zoo, Royal Ontario Museum, Casa Loma and Ontario Science Centre. You can see these places at your convenience, and the booklet is valid for 9 days.
This post was provided by Melissa Davidson, Manager of Social Media at CityPASS.
About The Author
Related posts